A few years ago, a young man went to a park in New York and sat beside a distinguished elderly man. After sitting for a while, he tried to talk to the man -who by the way, was reading that day's New York Times paper.
He started by asking him about a particular headline. The elderly man took one look at him and said "young man, you seem like a pretty good fellow. As much as I'd like to talk to you, I can't. So please let me read my newspaper in peace."
The young man, clearly offended, asked him why he rebuffed his effort at making pleasant conversation. The elderly man paused, closed his newspaper, took a deep breath, and replied,
"I have nothing against you. I'm sure you're a nice young man. But here's the thing. If I answer you, we'll start a conversation. And if we do, I'll probably like you. And if I like you, I'd probably invite you to my home for dinner. Now, I have a young daughter who's old enough to get married. You two might hit it off, and eventually, get married."
Surprised, the young man asked, "and how's that a bad thing?"
"Well", replies the elderly man "for one you don't have a wristwatch. And a man without a wristwatch isn't likely to be a punctual one, which means he probably doesn't take his time seriously. How am I supposed to give my daughter to that kind of man?"
While his response may have seemed was a little harsh, it underscores the importance of a watch. You can tell a lot about a man or woman by their wristwatch. This is often why people go to extreme lengths to buy high-end, ultra-pricey wristwatches like Rolex, Hublot, Ulysse Nardin, Cartier, Blancpain, Audemars Piguet, Vacheron Constantin, and Patek Phillippe.
For many, the idea is to wear a watch that looks expensive and attractive. While there's nothing wrong with that, the reality is that only a few can afford those expensive 5-6 figure watches.
The good news is that you can still wear a rad wristwatch without spending a small fortune. There are great-looking watches that cost less than a $1,000, but will also do an excellent job of enhancing your sophistication, class, and elegance.
Let's take a look at a few, shall we?
Hamilton Pan Europ Auto Watch
At over $700 each, this stunning wristwatch screams two things: class and style. Designed by a respected wristwatch manufacturer, this blue dial wristwatch is for the young, successful, up-and-comer, or the successful senior citizen looking for a wristwatch with a retro feel and design.
It's for those looking to be different and want a distinctive watch. Its canvas blue and red band color transform it into a sporty-looking wristwatch for a fun evening or a night out with a date.
While its leather band transforms it into a great-looking wristwatch for more formal occasions and events. It projects poise, class, leadership, and exclusivity.
Shinola Brands
At between $500 and $800+, Shinola offers some awesome watches that are just as simple as they are classy. My favorites are the Shinola "The Runwell" White Dial with black or tan leather, and the Shinola Runwell Chronograph.
These two are excellent compliment-getters and will have you standing out from the crowd. If you are looking for a luxury, unisex wristwatch that you can wear everywhere, this will do the job well.
Buy this if you are looking for an all-round, exquisite watch for work and events. This is a gorgeous wristwatch to have. Your wrists are going to love you for it and you're going to love wearing it.
Movado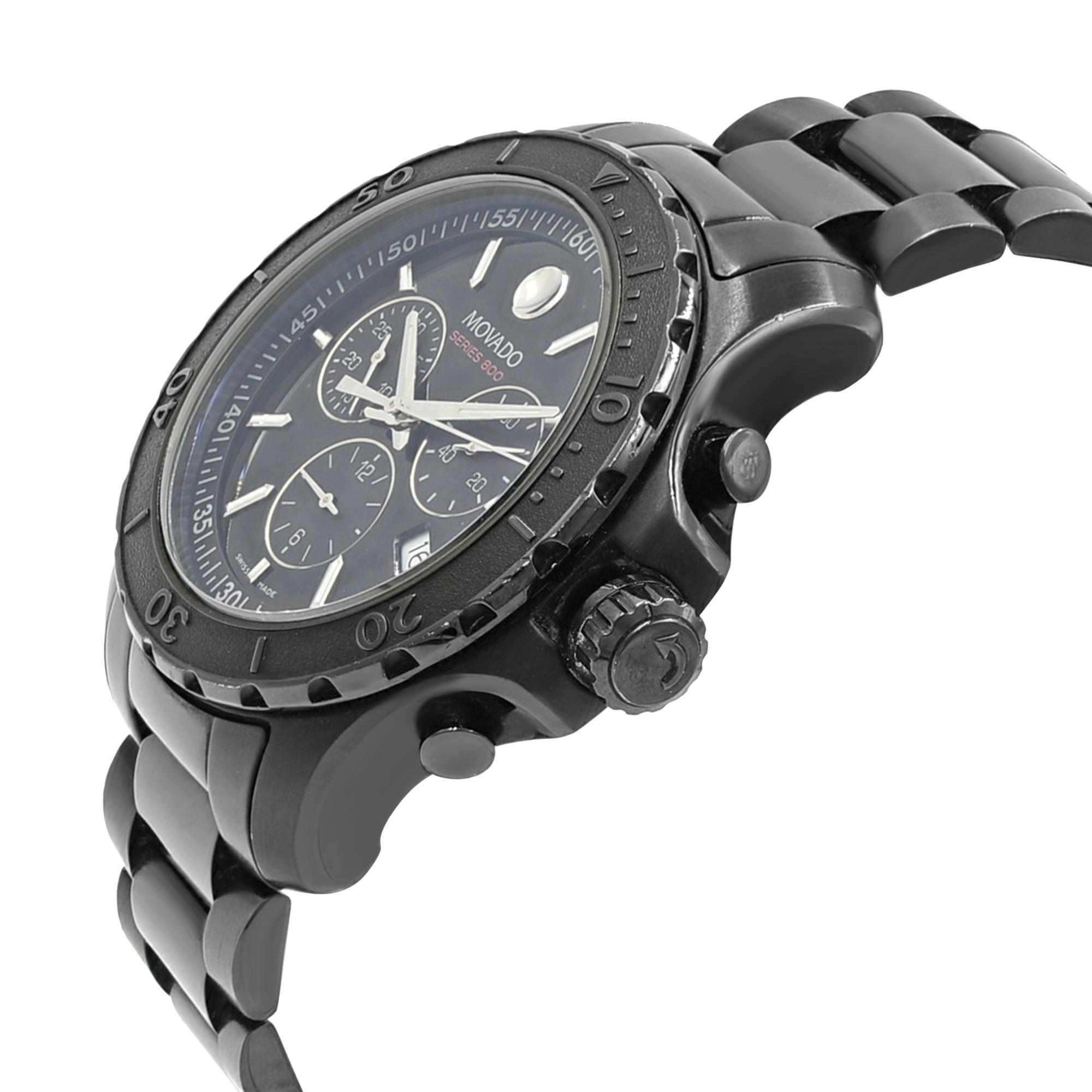 Your wristwatch should make you feel proud and want to flaunt it. Movado's line of wristwatches does just this; particularly the 800 series. The matte black Movado Men's 2600119 Series 800 Black Watch is a beast of a watch that you can wear anywhere and to any event.
It's classy and sophisticated. Also, it's guaranteed to get you noticed, and will get you loads of compliments. Even better is the fact that you'll probably be the only person wearing it in the room. How's that for exclusive.
If you love Tag Heuer wristwatches but can't afford them yet, the black Movado Men's 2600119 Series 800 Black Watch is an excellent alternative. In fact, there are watch aficionados who swear by the fact that it packs on more features than any Tag Heuer.
Oris Arquis
There's just one word to describe the wristwatches from this house: superb. Their watches boast superb design, incredible precision technology, and outstanding compliment getters.
If you want to get noticed wearing a watch that costs less than $1,000, this brand is worth checking out. They also have some higher-end watches in the $1k+ range.
I'd recommend the Oris Men's 73376534155MB Divers Stainless Steel Blue Dial Watch (costs about $900). These have been described as awesome, beautiful, and "rolls royce watch for mini car money". I guess that's saying a lot ;).
Brera Orologi
Wristwatches from Brera Orologi are often described as luxurious, attractive, and "looking like Hublot". There are very few wristwatches that are compared to Hublot –maybe it's because they share a similar design.
So, if you want a watch that feels like a high-end timepiece on your wrist for less than $1,000, specifically check out the SportiqueBrera Orologi Tornado Sport Men's Watch. This goes for just $349.
Braun
If you are looking for a striking wristwatch with excellent precision, clean looking face, and feels pretty solid, you should check out Braun's line of amazing wristwatches.
The watch manufacturer produces both digital and analog wristwatches that cost far less than $1,000, but look like they cost a lot more. More specifically, the Braun Men's BN0095BKSLBTG Prestige Chronograph Analog Display Swiss Quartz Silver Watch which costs between $400 and $500. The wristwatch is as prestigious as it is attractive. Users have been known to "fall in love with the wristwatch at first sight".